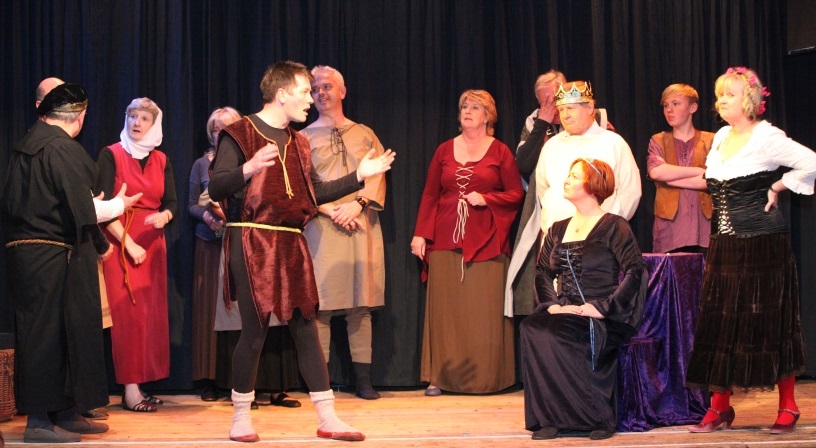 An amateur, community drama group, founded over 25 years ago, based in the Spring Grove area of Kingston, with members from a wider area. The group stages four or five shows a year, most running for two evenings and including supper. Over the last ten years, over £25,000 has been donated to local and national charities chosen by the members.
Registered charity number 1150982.
On the Fringe
Read the latest edition of our occasional newsletter here.
Next Production - High Notes
A supper evening with two comedies.

Press Cuttings, by George Bernard Shaw

Put Major Barbara and Saint Joan out of your mind! This comedy, set in 1911, has a pompous Field Marshall, worried about terrorism, a male Prime Minister who dresses as a suffragette, Mrs Banger and Lady Corinthia, two gun-toting anti-suffragettes, amongst others. Surprisingly, this all has a happy ending!

Il Fornicazione, by Michael Green

Like all his marvellous 'Coarse Acting' one act plays, this spoof of an opera is outrageous. As explained by the conductor, all but one of the orchestra were involved in a coach accident, so the entire opera must be performed accompanied only by a triangle.

Friday November 25th 2016, 8.00pm

Saturday November 26th 2016, 7.30pm

Tickets: £17.50, including supper. Licensed bar.

Box office

07905 468 589
Future Dates in 2017
February 10/11 – Pantomime - Snow White and the Seven Dwarves
May 19/20 – Cupboard Love, a revue.
October 6/7 – Two one-act plays
November 24/25 - A Victorian Music Hall
A Question of Musicals
An evening of fun, with some show-stopping numbers and a fabulous quiz.

Not forgetting the usual delicious meal.

It was a terrific evening and lots of fun.

In aid of Save the Children

Friday May 20th 2016, 8.00pm

Saturday May 21st 2016, 7.30pm
Ali Baba
Friday February 5th 2016, 8.00pm

Saturday February 6th 2016, 2.30pm

Saturday February 6th 2016, 7.30pm



The Beaux' Stratagem (Lust and Looting in Lichfield!)
A Restoration romp – with wealthy widows, buxom barmaids, sullen spouses, dissolute dandies, shady chaplains, hustling highwaymen (and women), louche landlords, colourful costumes, wonderful wigs!

The Beaux' Stratagem, by George Farquhar.

Friday November 27 2015, 8.00pm

Saturday November 28 2015, 7.30pm

Read the programme.

See some photos.
Two One Act Plays
Last Tango in Little Grimley, by David Tristram.

Will rumours of sex and sinning in the final production of The Little Grimley amateur dramatic company be enough to capture the attention of our audience and end on a professional high? Will it be enough to fill the seats for yet another nice 'little farce'? The chairperson has a cunning plan and it could all get very messy.

Young Souls, by Sally Brockway.

Young Souls is set in the Belleview Retirement Home.

Three of the residents, Beryl, Gerald and Margery agree to take part in a trial of a new drug called 'Animus' with unexpected consequences for them and for Matt, the young care assistant.


Friday October 2 2015, 8.00pm

Saturday October 3 2015, 7.30pm