The Spring Grove Fringe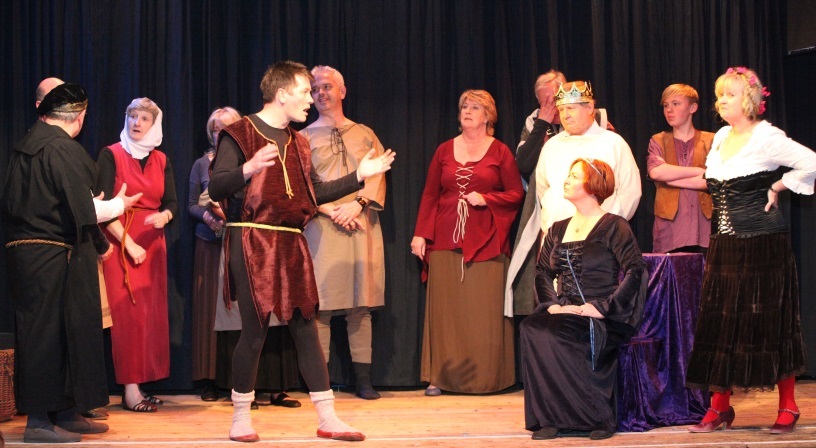 An amateur, community drama group, founded over 30 years ago, based in the Spring Grove area of Kingston, with members from a wider area. The group usually stages four shows a year, most running for two evenings and including supper. One of the these is the annual pantomime, with extra local involvement. We also put on occasional play-readings and workshops.
Over the last ten years, more than £30,000 has been donated to local and national charities chosen by the members.
If you are interested in joining or finding out more, come to our next show or email sgfkingston@gmail.com.
Registered charity number 1150982.
See our Data Privacy Policy.
On the Fringe
Read the latest edition of our occasional newsletter here.
Next Production – Matchbox Theatre – November 29th/30th
Matchbox Theatre is a collection of humorous short entertainments by renowned British playwright Michael Frayn, famous for his farce Noises Off, and the dramas Copenhagen and Democracy.

The individual items are loosely connected through the topic of communication, its shortcomings and misunderstandings, talking about, talking to, talking at cross purposes.

The characters may be in a play, in a book, may be you, may be us all!

Friday 29th November at 8.00pm
Saturday 30th November at 7.30pm

Tickets £20, including supper. Licensed bar (cash or card)

Booking open soon!
Spring Grove Fring's got Talent? – October 4th/5th
Friday 4th October, 8.00pm
Saturday 5th October 7.30pm

Supper evening.

Another star spangled evening in St John's Parish Hall, watching all those performers you know and love proving to you that they are, indeed, the most talented amateurs in the 'hood.

Read the programme.

Look at the photos.
Lady Windermere's Fan
– May 2019
Friday 17th May, 8.00pm
Saturday 18th May, 7.30pm

Both performances sold out.

As Lord Darlington says to Lady Windermere: 'I can resist everything except temptation.' You will not want to resist the temptation of the Spring Grove Fringe production of 'Lady Windermere's Fan'.The play is a wonderfully enjoyable comedy, filled with characters who spend most of their time trading witty remarks, but also a subtle social satire, particularly pointed about the hypocrisy of Victorian attitudes to women and sex.Wilde's greatest achievement may have been in getting his wealthy, well-dressed and fashionable audiences to laugh at themselves – without them realising that they were the butt of the joke.

An introduction to Lady Windermere's Fan, by Andrew Dickson.

See the poster

Read the programme

See the photos
Robin Hood and the Babes in the Wood – February 2019
All the family can join in the fun and frolics, excitement and laughter and watch with bated breath.
Will the Babes escape from the Sheriff's wicked plot?
Are 'Arry and Bo really that evil?
Will Gilly Jones and her gallant band of protesters overturn the introduction of the new straw tax?
Will Marion and Robin find true happiness and – actually – how merry are those men??

Friday 8th February, 2019, 8.00pm
Saturday 9th February, 2019 2.30pm (Matinée)
Saturday 9th February, 2019 7.30pm

All performances sold out!!

Read the programme.

See some photos.
A Bunch of Amateurs – November 2018
Private Eye editor Ian Hislop and award-winning cartoonist Nick Newman have combined to write a very funny play about the pitfalls of amateur theatre when 'invaded' by a fading Hollywood film star who thinks he has been chosen to star in a production in Stratford On Avon, whereas in act, he has unwittingly committed himself to 'King Lear' in Stratford St John in Suffolk.

Friday, November 23rd, 7.45pm
Saturday, November 24th, 7.45pm

Both nights sold out

Read the programme

See the photos

The Great American Dream? – October 2018
A fun-filled musical evening of frolics and satire on the American Dream.



Friday 5th October, 8.00pm

Saturday 6th October, 7.30pm

Full houses on both nights

Read the programme.

See the photos.
The Ghost Train, by Arnold Ridley – May 2018
The Ghost Train is a comedy thriller by Arnold Ridley, better known as Private Godfrey in Dad's Army. Written in 1923, it played to full houses for over a year in the West End. A group of railway passengers who have been stranded for the night in a remote rural station feel threatened by ghostly external forces.

Friday 18th May, 8.00pm
Saturday 19th May. 8.00pm

Read the programme.

See the photos.
Zorro! - February 2018
The year is 1835...
The province of Alta California is soon to be part of a newly proud and independent Mexico. But whenever there is great change the most ruthless, the most vicious, the most morally bankrupt will always try to grab power for themselves.

Only one man stands in their way. They call him...
Zorro!

The show featured heroes and villains, power hungry generals, unlucky smugglers, desperate revolutionaries, star crossed lovers, a mad scientist, an evil property tycoon, a very naughty cockroach, and much much more!

With bad jokes, great songs, sword fights choreographed by the great Peter Case, and the usual participation from our fine audience, this show was superb fun for the whole family.

Hasta la vista amigos!

Sold out both evenings.

Friday February 2nd 2018, 8.00pm
Saturday February 3rd 2018, 2.30pm
Saturday February 3rd 2018, 7.30pm

See the photos.