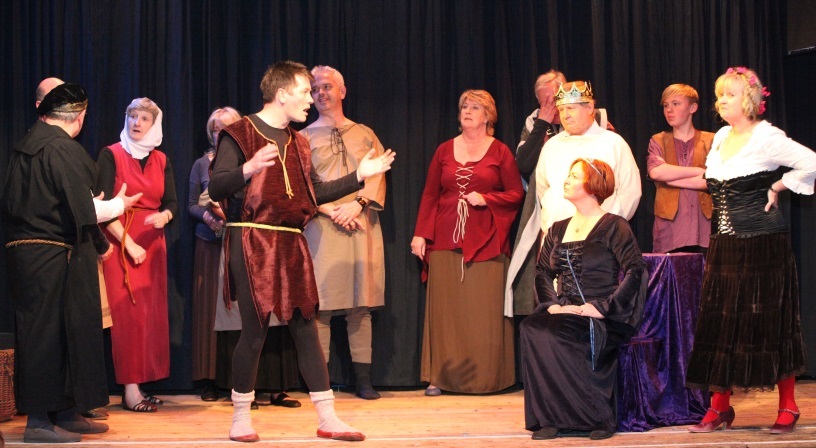 An amateur, community drama group, founded over 30 years ago, based in the Spring Grove area of Kingston, with members from a wider area. The group usually stages four shows a year, most running for two evenings and including supper. One of the these is the annual pantomime, with extra local involvement. We also put on occasional play-readings and workshops.
Over the last ten years, more than £30,000 has been donated to local and national charities chosen by the members.
If you are interested in joining or finding out more, come to our next show or email sgfkingston@gmail.com.
Registered charity number 1150982.
See our Data Privacy Policy.
On the Fringe
Read the latest edition of our occasional newsletter here.
Next production – November 24/25
London Assurance
, by Dion Boucicault
Friday November 24th at 8:00 pm

Saturday November 25th at 7:30 pm

Young country girl Grace has agreed to marry ageing London dandy Sir Harcourt in return for his financial support of her family. At a house party at Oak Hall, in Gloucestershire, Harcourt's son Charles also falls in love with Grace. When his father appears, Charles has to convince him that there is a case of mistaken identity. Then Lady Gay Spanker, a married woman also visiting the Hall, is persuaded by Charles to seduce his father.

Much confusion and scheming ensues.

Tickets £25 to include supper. Licensed bar (card or cash).

Buy tickets now:
October 2023 – sing-along Mamma Mia!
October 6th at 8:00 pm

October 7th at 7:30 pm

Knowing us, knowing you – Here we go again! An Extrava-ABBA-ganza! We sang along to the movie.

That's the Name of the Game! A supper evening with a Greek menu, so Gimme, Gimme, Gimme … whatever is to your taste after Midnight. We did Take a Chance on You.

There was a range of Greek-style food to suit all tastes on the tables.

And, who knows, maybe there was a Dancing Queen!!
May 2023 – Present Laughter
Friday May 19th at 7.30 pm
Saturday May 20th at 7:30 pm

Noel Coward's comic play about an ageing, dilettante Thespian depicts a few days in the life of the successful and self-obsessed light comedy actor Garry Essendine as he prepares to travel for touring commitment in Africa. Amid a series of events bordering on farce, Garry has to deal with women who want to seduce him, placate both his long-suffering secretary and his wife, cope with a crazed young playwright, and overcome his impending mid-life crisis.
Coward admitted he wrote it to give himself a 'bravura' part and said it was 'not so much a play as a series of semi-autobiographical pyrotechnics'.

Download the poster.

Download the programme.

See some photos.
February 2023 – Camelot the Panto
Friday February 10th at 8:00 pm
Saturday February 11th at 2:30 pm
Saturday February 11th at 7:30 pm

Camelot the Panto, by Ben Crocker.

This is not the Camelot where Arthur marries Guinevere without a mediaeval hitch. It is the Camelot where the baddie Morgan le Fay has invoked magical powers to try to get Guinevere to marry Vladimir the Vicious, King of the Tangled Wood. But Merlin has discovered the secret of the Elixir of Youth, and this means he is able to become a thousand years younger and resolve the marital situation with super-powers!

Download the poster.

Download the programme.

See the photos.
November 2022 – Murder Most Foul
Friday November 25th at 8:00 pm
Saturday November 26th at 7:30 pm

An evening of murder and mystery.

'Death at the Deanery', a one-act Miss Marbles Miss-Adventure, by Jim Hollingsworth. An Inspector calls to solve a murder in a village with many secrets.

Following the play and supper, a devilish quiz on the subject of murder. Come with a team of 6 or buy a ticket and we will put you with other jolly people. Piece together the clues and solve the murder of General Stick Monocle, then try for the grand quiz prize.

Tickets £20, including supper. Licensed bar (cash or card).

Download the poster.

Download the programme.

See some photos of Death at the Deanery.
The Best of our Musicals – October 2022
Friday October 7th at 8:00 pm
Saturday October 8th at 7:30 pm

Another Sparkling Evening with The Spring Grove Fringe.
A reprise of many of your (and our) favourite numbers from the Musicals with all your favourite stars from the SGF.

Download the poster.

Download the programme.

See some photos.
Outside Edge – May 2022
Friday May 20th at 8:00 pm
Saturday May 21st at 7:30 pm

A comedy set in a cricket pavilion, written by Richard Harris.

Do Roger and Miriam really have the perfect marriage?
Does Ginnie really have a cold?
And will little Kev persuade big Maggie to leave the bricklaying and watch him play for once?

Roger has troubles enough in assembling his team, but they pall before those amongst the wives and girlfriends.

Download the poster.

Download the programme.

See some photos.