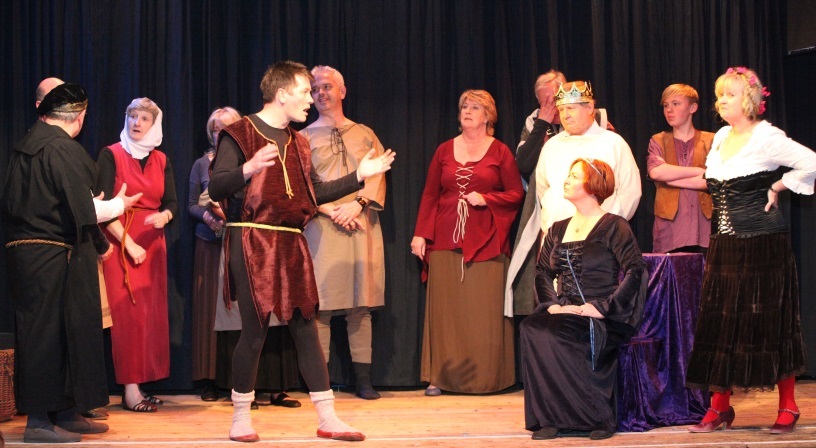 An amateur, community drama group, founded over 30 years ago, based in the Spring Grove area of Kingston, with members from a wider area. The group usually stages four shows a year, most running for two evenings and including supper. One of the these is the annual pantomime, with extra local involvement. We also put on occasional play-readings and workshops.
Over the last ten years, more than £30,000 has been donated to local and national charities chosen by the members.
If you are interested in joining or finding out more, come to our next show or email sgfkingston@gmail.com.
Registered charity number 1150982.
See our Data Privacy Policy.
On the Fringe
Read the latest edition of our occasional newsletter here.
Next Production – Outside Edge – May 20/21 2022
Friday May 20th at 8:00 pm
Saturday May 21st at 7:30 pm

A comedy set in a cricket pavilion, written by Richard Harris.

Do Roger and Miriam really have the perfect marriage?
Does Ginnie really have a cold?
And will little Kev persuade big Maggie to leave the bricklaying and watch him play for once?

Roger has troubles enough in assembling his team, but they pall before those amongst the wives and girlfriends.

Download the poster.
Falstaff – November 2021
Shakespeare's Merry Wives of Windsor comes to Kingston!

The fat knight farcically pursues Mistress Ford and Mistress Page and they take their revenge. He has to crawl into a basket with dirty laundry and be dumped in the Thames, to dress as a woman and be beaten by a cuckolded husband, to put on stag's horns and be brought down to size by the villagers.

Friday 25th November, 8.00 pm

Saturday 26th November, 7.30 pm

Download the poster.

Download the programme.

See the photos.
Famous Names Quiz – October 2021
SATURDAY OCTOBER 2nd – a one night only Spring Grove Fringe special – an evening of enjoyment, entertainment, enlightenment and of course a delicious supper, glamorously entitled:

Famous Names:
The Spring Grove Fringe Quiz and Entertainment

Bar, boutique performances from some of your favourite stars, and teams of six.
Out! – June 2021
Friday 25th June, 8.00 pm
Saturday 26th June, 7.30 pm

Songs, words, sketches ...
in lockdown, and now we're ... OUT!

We want you to be safe. Seating will be in accordance with Government restrictions in place at the time.

Both nights sold out.

Download the poster.

Read the programme.
Our planned 2020 productions – 'Outside Edge' in May and 'Falstaff' in November – had to be postponed, because of COVID-19 restrictions.
We were not able to stage our usual pantomime in 2021.
Jack and the Beanstalk – February 2020
Jack and the Beanstalk – it's all the usual stuff – Oh no it isn't! – Oh yes it is …. !

A cow, a chicken, a whole hill of beans (some with stalks, some without), a hero, a heroine, idiot villagers, women dressed as men, men dressed as women.

Plenty of singing, dancing and bad jokes, but served up with the usual SGF dash and verve and absolutely not to be missed!

Friday 7th February at 8.00pm
Saturday 8th February at 2.30pm
Saturday 8th February at 7.30pm

Read the programme.

Look at the photos.