The Spring Grove Fringe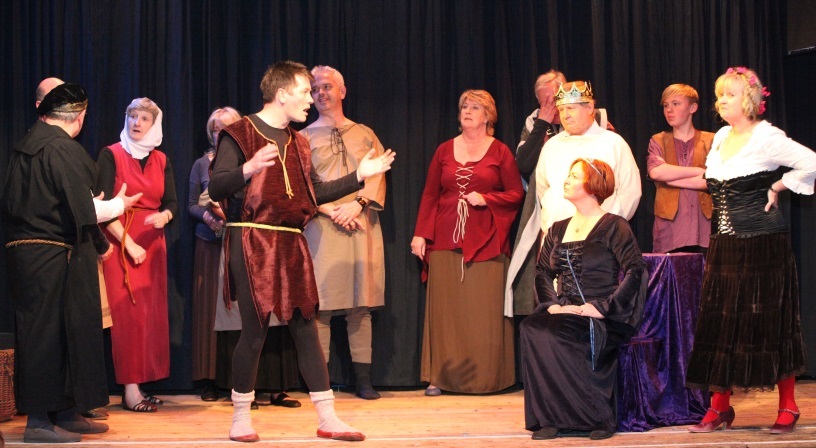 An amateur, community drama group, founded over 30 years ago, based in the Spring Grove area of Kingston, with members from a wider area. The group usually stages four shows a year, most running for two evenings and including supper. One of the these is the annual pantomime, with extra local involvement. We also put on occasional play-readings and workshops.
Over the last ten years, more than £30,000 has been donated to local and national charities chosen by the members.
If you are interested in joining or finding out more, come to our next show or email sgfkingston@gmail.com.
Registered charity number 1150982.
See our Data Privacy Policy.
On the Fringe
Read the latest edition of our occasional newsletter here.
Our planned 2020 productions – 'Outside Edge' in May and 'Falstaff' in November – had to be postponed, because of COVID-19 restrictions. We were not able to stage our usual pantomime in 2021.
An SGF production celebrating the release from most restrictions is planned for late June, subject to Government regulations. If you are on our email list of friends and supporters, you will know as soon as possible.
Jack and the Beanstalk – February 2020
Jack and the Beanstalk – it's all the usual stuff – Oh no it isn't! – Oh yes it is …. !

A cow, a chicken, a whole hill of beans (some with stalks, some without), a hero, a heroine, idiot villagers, women dressed as men, men dressed as women.

Plenty of singing, dancing and bad jokes, but served up with the usual SGF dash and verve and absolutely not to be missed!

Friday 7th February at 8.00pm
Saturday 8th February at 2.30pm
Satyrday 8th February at 7.30pm

Read the programme.

Look at the photos.
Matchbox Theatre – November 2019
Matchbox Theatre is a collection of humorous short entertainments by renowned British playwright Michael Frayn, famous for his farce Noises Off, and the dramas Copenhagen and Democracy.

The individual items are loosely connected through the topic of communication, its shortcomings and misunderstandings, talking about, talking to, talking at cross purposes.

The characters may be in a play, in a book, may be you, may be us all!

Friday 29th November at 8.00pm
Saturday 30th November at 8.00pm (NOTE: 8.00pm start)

Read the programme.

Look at the photos.
Spring Grove Fringe's got Talent? – October 2019
Friday 4th October, 8.00pm
Saturday 5th October 7.30pm

Supper evening.

Another star spangled evening in St John's Parish Hall, watching all those performers you know and love proving to you that they are, indeed, the most talented amateurs in the 'hood.

Read the programme.

Look at the photos.
Lady Windermere's Fan
– May 2019
Friday 17th May, 8.00pm
Saturday 18th May, 7.30pm

Both performances sold out.

As Lord Darlington says to Lady Windermere: 'I can resist everything except temptation.' You will not want to resist the temptation of the Spring Grove Fringe production of 'Lady Windermere's Fan'.The play is a wonderfully enjoyable comedy, filled with characters who spend most of their time trading witty remarks, but also a subtle social satire, particularly pointed about the hypocrisy of Victorian attitudes to women and sex.Wilde's greatest achievement may have been in getting his wealthy, well-dressed and fashionable audiences to laugh at themselves – without them realising that they were the butt of the joke.

An introduction to Lady Windermere's Fan, by Andrew Dickson.

See the poster

Read the programme

See the photos
Robin Hood and the Babes in the Wood – February 2019
All the family can join in the fun and frolics, excitement and laughter and watch with bated breath.
Will the Babes escape from the Sheriff's wicked plot?
Are 'Arry and Bo really that evil?
Will Gilly Jones and her gallant band of protesters overturn the introduction of the new straw tax?
Will Marion and Robin find true happiness and – actually – how merry are those men??

Friday 8th February, 2019, 8.00pm
Saturday 9th February, 2019 2.30pm (Matinée)
Saturday 9th February, 2019 7.30pm

All performances sold out!!

Read the programme.

See some photos.