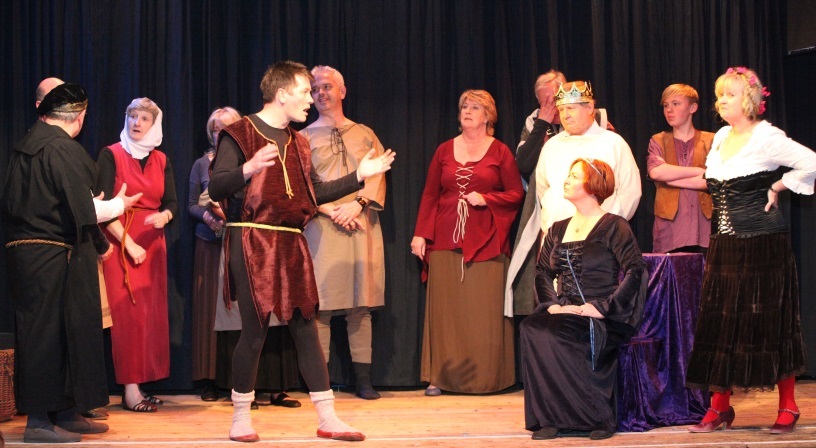 An amateur, community drama group, founded over 30 years ago, based in the Spring Grove area of Kingston, with members from a wider area. The group stages four or five shows a year, most running for two evenings and including supper. Over the last ten years, more than £20,000 has been donated to local and national charities chosen by the members.
Registered charity number 1150982.
On the Fringe
Read the latest edition of our occasional newsletter here.
Coming soon ... The Ghost Train, by Arnold Ridley – May 18th & 19th
The Ghost Train is a comedy thriller by Arnold Ridley, better known as Private Godfrey in Dad's Army. Written in 1923, it played to full houses for over a year in the West End. A group of railway passengers who have been stranded for the night in a remote rural station feel threatened by ghostly external forces.
Zorro! - February 2018
The year is 1835...
The province of Alta California is soon to be part of a newly proud and independent Mexico. But whenever there is great change the most ruthless, the most vicious, the most morally bankrupt will always try to grab power for themselves.

Only one man stands in their way. They call him...

Zorro!

The show featured heroes and villains, power hungry generals, unlucky smugglers, desperate revolutionaries, star crossed lovers, a mad scientist, an evil property tycoon, a very naughty cockroach, and much much more!

With bad jokes, great songs, sword fights choreographed by the great Peter Case, and the usual participation from our fine audience, this show was superb fun for the whole family.

Hasta la vista amigos!

Sold out both evenings.

Friday February 2nd 2018, 8.00pm

Saturday February 3rd 2018, 2.30pm

Saturday February 3rd 2018, 7.30pm

See the photos.
A Crackers Christmas - November 2017
Spring Grove Fringe's cranky Christmas cabaret, to get ready for Christmas.

A zany evening of: cabaret acts tumbling from Santa's sack, wine-tasting with a particular Yuletide bouquet, a seasonal quiz and … who-knows-what else!

Friday 24th November, 8.00pm

Saturday 25th November, 7.30pm

Read the programme.

See the photos.
Drinks before Dinner - October 2017
Two one act plays from Alan Ayckbourn's Confusions collection.

Drinking Companions and Between Mouthfuls are set in the same Midlands railway hotel. There are dark undertones to both plays but, being by Ayckbourn, all issues are handled with a great deal of humour.

Friday 6th October, 8.00pm

Saturday 7th October, 7.30pm

Read the programme.
The Fashion Statement - May 2017
The Spring Grove Fringe's Wardrobe was thrown open!

Our absolutely fabulous evening of prose, poetry, dance and an an itsy-bitsy-teeny-weeny bit of music, starring all your favourite performers ... and supper.

Friday May 19, 8.00pm

Saturday May 20, 7.30pm

Read the programme.
Snow White - February 2017
Friday February 10th 2017, 8.00pm

Saturday February 11th 2017, 2.30pm

Saturday February 11th 2017, 7.30pm

Three full houses.

Read the programme.

See some photos.